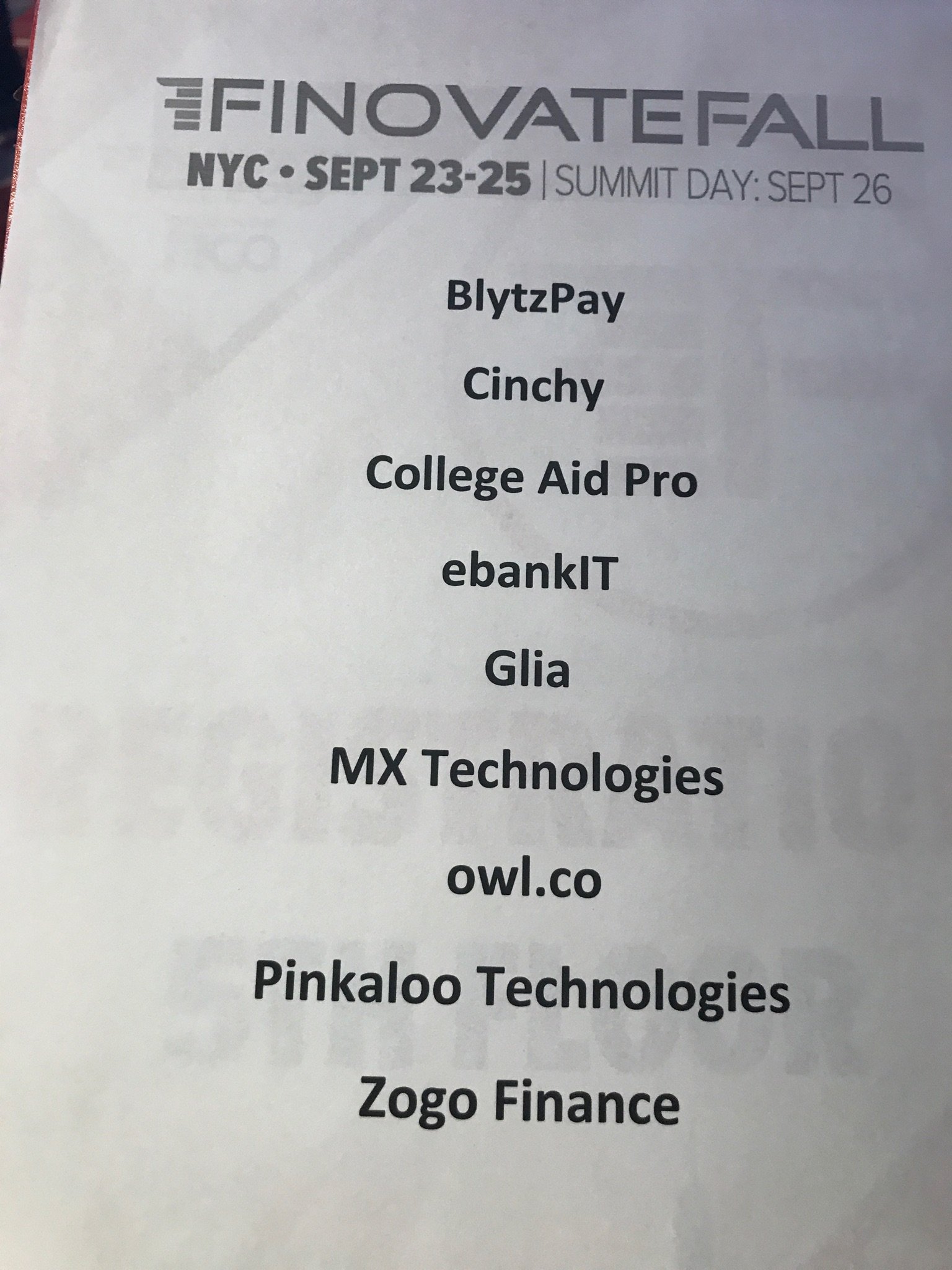 The votes have been cast and the ballots counted. And after two days of live fintech demos from 75 innovative companies, here are the best of the best: the companies our attendees have deemed FinovateFall's Best of Show.
BlytzPay for its text-to-pay solution that makes billing and communication simple, streamlined, and secure while providing flexibility to pay by card, check, or cash.
Cinchy for its Data Collaboration Platform that lets data work the way it should: connected, controlled, and accessible for real-time collaboration.
College Aid Pro for its innovative technology, supported by a community of financial advisors, that changes the way America shops for college.
ebankIT for its omnichannel digital banking platform that helps banks and credit unions transform their businesses.
Glia for its technology that creates digital-first moments that simplify and transform communications between businesses and their customers.
MX Technologies for its platform that helps financial institutions and fintechs quickly and easily collect, enhance, analyze, present, and act on their financial data.
owl.co for its instant KYC/AML tool that automates enhanced due diligence on both individuals and companies.
Pinkaloo Technologies for its solution that helps financial institutions attract and retain customers and increase deposits and fees by powering their customers' charitable giving.
Zogo Finance for its technology that leverages partnerships with financial institutions to reward kids for learning financial literacy.
Those in attendance at this year's FinovateFall can attest to the energy and enthusiasm that characterized our conference this week. Congratulations to all 75 of the companies that demonstrated their fintech innovations on stage and a heartfelt thanks to our partners, sponsors, and onsite tech team for making this year's autumn event a smashing success.
Notes on methodology:
1. Only audience members NOT associated with demoing companies were eligible to vote. Finovate employees did not vote.
2. Attendees were encouraged to note their favorites during each day. At the end of the last demo, they chose their three favorites.
3. The exact written instructions given to attendees: "Please rate (the companies) on the basis of demo quality and potential impact of the innovation demoed."
4. The nine companies appearing on the highest percentage of submitted ballots were named "Best of Show."
5. Go here for a list of previous Best of Show winners through 2014. Best of Show winners from our 2015 through 2019 conferences are below: