US Bank, which has been busy building new online features of late, recently (note 1) added a debit card section to its online banking site. The new Check Cards & ATM Cards section is displayed on the default Your Accounts main page (see first screenshot).
Clicking on the debit card name takes users to an info page which outlines debit card withdrawal and purchase limits along with the accounts accessible through the card. I've banked there for 20 years and today is the first time I've ever known my daily limits.
The bank included embedded "help" bubbles around some of the key terms. But there are no direct links that explain the options or how to alter them (e.g., request an increase to my daily limit).
Bottom line: Treating debit cards like their own "product" makes good strategic sense. Users benefit from the added transparency, and it helps position the card as a value-add, something that could even support fees for premium options (e.g., a higher withdrawal limit, rewards, multi-account access, etc.).
———————————–
US Bank's main online banking view now includes a debit card section (2 Aug 2012)
Users can click through to see the specific limits associated with the debit card
Note: On the right, the bank upsells Visa Money Transfer, a $1.95 per transaction P2P payment option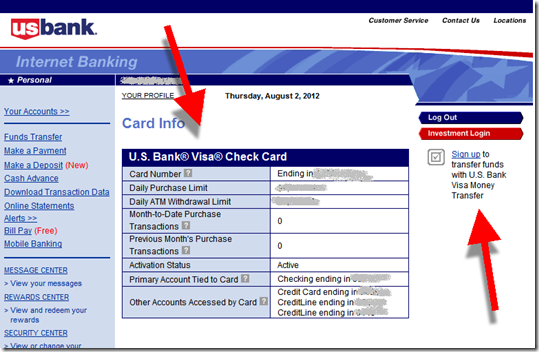 ———————————
Note:
1. I'm not sure when it was added, but today was the first time I noticed it.