FirstROI, a division of Austin, TX-based BancVue (previous coverage here) launched its CheckingFinder service June 2. FinovateStartup attendees received a sneak peak in April and rewarded it with a Best of Show award (video here). The innovative service helps consumers find the best BancVue-powered rewards checking account based on geographic location, APY, or total return (see second screenshot below).
How it Works

The first challenge is getting customers to the site. FirstROI is investing heavily in Google AdWords to get the word out. For example, a search on "checking accounts" at Google today (note 1), displayed CheckingFinder in second place, trailing only BofA (see screenshot below).
As a relative newcomer to AdWords, the company's bid price would have to be high to score the second slot over such big names as Schwab (#3), HSBCdirect (#4), Key Bank (#5), WaMu (#6), Chase (#10) and Wells Fargo (#11). CheckingFinder may very well be paying more than BofA, depending on how Google's ad-positioning algorithm weighs its relevance.
Clicking the AdWords link results in a list of banks presorted by closest distance to the IP address used to search Google (see next screenshot). Unfortunately, the closest participating BancVue client, Altra Federal Credit Union, is 1043 miles away
(see note 2).
You can also sort the results by rate (APY) or plug in an estimated checking account balance and ATM usage and have the results sorted by highest annual return
(see note 3).
After selecting the account you prefer, users land on a page that lays out the offer in more detail and includes a bright green "open now" bar at the bottom of the page and another open button in the webpage bullseye, the upper-right corner. The online account opening process is powered by Andera.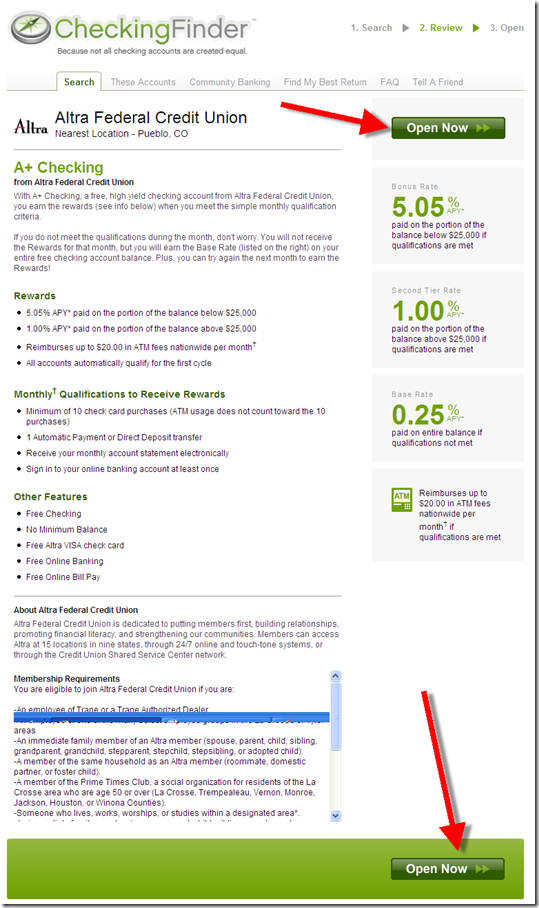 Summary
Overall, it's a good "micro" search engine, helping users quickly find the best checking account from the company's client base. The big downside from a consumer perspective is that it's currently limited to just 60 participating BancVue reward-checking clients. It will be more effective if they can get more of their 400+ banks and credit unions on board.
While I think most consumers will understand that they are searching a subset of available checking accounts, I think BancVue should disclose a bit more about its relationship with the financial institutions listed. That fact is touched on in the About Us section, but the FAQs don't address this, nor are there any direct links back to BancVue or FirstROI. 
Notes:
1. Google search conducted from Seattle IP address at 1 PM Pacific time, 17 June 2008.
2. Verity Credit Union, which is about 4 miles from my home, is a BancVue client, but their reward-checking account, Velocity Checking, is currently paying a short-term teaser rate of 6.75% to celebrate its 75th anniversary (APY updated 20 June per Shari's comment). When Verity returns to its normal 5% APY, its account will be available through CheckingFinder. There is also a slightly closer California bank participating, Tri Counties Bank, but it is not marketing to Seattle residents, so I don't see it in my CheckingFinder results page.  
3. Jeffry Pilcher, who recently left Weber Marketing to found his own consultancy, ICONiQ, is also blogging at The Financial Brand. He cautions that the days of differentiating your brand with "reward checking" has passed in many markets.