It must be a slow news day. Two years ago, fintech barely got a mention in the mainstream tech press. Today, Coin, a stealthy "credit card 2.0" startup backed by Y Combinator and K9 Ventures, was covered almost immediately by 21 tech blogs (and counting). VentureBeat appears to have broke it first.
My favorite headline:
Master card? 'Coin' combines, debit, credit and others into one
–  by Devin Coldewey, NBC News
It's currently the fourth highest ranked article on Techmeme and it's the number 1 trending startup on Crunchbase today, beating Snapchat, which just turned down $3 billion from Facebook (bubble maybe?).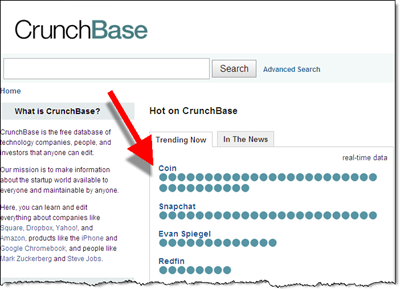 Anyway, for anyone who's missed it, Coin is planning to release a programmable mag strip card along the same lines as Dynamics. Coin says its plastic card will hold up to eight distinct card details at a time, all accessible via a button and miniature LED screen on the card. The card syncs with your smartphone so you can swap out the eight cards anytime, for an unlimited number stored in the phone. It even beeps at you if you walk away from the Coin card.
Coin announced a pre-order today. At 2:15 PM PST, the company said it had reached it's pre-order goal in 40 minutes, selling more than 1,000 at its website today (cost = $50 + $5 shipping). That in itself is a sign of the times. An unknown startup (albeit with YC alum cred) crowdfunding on its own site and raiding $50k in less than an hour (see note 1).
For those concerned about the card's potential use by credit card thieves, Coin requires the mag strip to be read via a Square-like dongle AND a photo of the front/back of the card which must match the mag stripe info AND your Coin profile.
The 2-minute video showing how Coin works has already been viewed more than 250,000 times. That has to be a single-day fintech record.
Bottom line: Some day, plastic cards will be relegated to the Smithsonian and the auction pages of eBay, but that day is many, many years in the future (see note 2). So the multi-card "plastic 2.0" concept from Dynamics, GoNowCard, Escardgot, Protean and others, could be a viable transitional technology. 
At $50 a pop (scheduled to double next summer to $100), Coin will clearly occupy a relatively small niche. However, if the price comes down to something closer to a burger and beer in NYC/SF ($15 to $20) or better, the startup uses a monthly freemium subscription model, it could take off.
—————————————-
Notes:
1. I snagged one of them, so check back next summer for a report. 
2. For more info, see our recent Online Banking Report: Digital & Mobile Wallets(published Feb 2013, subscription).